Description
The MSD silicone ball is used to exercise flexor muscles of the hand, and it can also be used to relieve or reduce stress. This anti-stress ball is black, which indicates the most intense squeezing resistance.
MSD silicone balls are used to strengthen the muscles of the hand, fingers and forearms, and to improve their mobility. To strengthen your hands, regularly use a silicone ball, which is a mandatory part of fitness equipment, and it is recommended by physiatrists, as well as sports medicine doctors.
Great anti-stress ball
If you feel increased stress, MSD silicone ball is also useful. In addition to hand strengthening, it is also anti-stress ball.
MSD silicone balls can be used during normal exercise or during rehabilitation. This ball is suitable for use anywhere. You can use it at home, on trips and in the office, while working on the computer.
Do you hate to carry sports equipment with you? This ball is also useful here because its main feature is that it is so small to fit your pocket and does not require any additional space to carry. In a word, you can carry it everywhere with you, without carrying a bag with sports equipment.
You can find several types of silicone hand balls on our web site, depending on what intensity of resistance you want. The color indicates resistance strength of the ball, and black is the strongest.
Similar products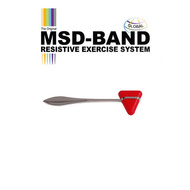 20%
Najčešća Pitanja
Gde Kupiti