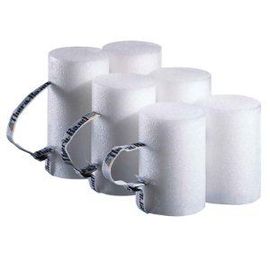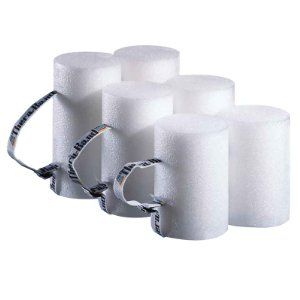 Description
Thera Band swim belts are beginner aids for water swimming training. These swim belts help teach children to swim, so that they become independent swimmers. Learning to swim is much easier with aids on which the degrees of flotation can be gradually adjusted, in accordance with the acquired skills.
Thera Band swim belts have an adjustable buckle and are available with one, two or three blocks of foam, which can be removed as swimmers develop more skills. They are easier to use than classic inflatable devices that are used tor learning to swim.
Aids for learning to swim
Although extremely useful, it should be borne in mind that these swim belts are not intended for independent use and that beginners who use a swim belt must be under the constant supervision of an adult or swimming coach, until they learn to swim without aids.
Features of swim belt:
- This swim belt is fastened over the waist, so experienced swimmers can teach beginners to swim.
- Swim belts are intended for children (until they become adolescent).
- Float blocks are removable and made of high density foam.
Unlike the swimming armbands, this belt is attached to the waist to help learn different swimming positions, as well as teach specific techniques. Thera Band swimming belt is intended for children to learn different types of techniques without mistakes, which is extremely important for those who have decided to learn to swim.
* Our site uses cookies, if you want to know more, see the "Privacy Policy" section.
** Register to be able to buy online. Clicking on the link will activate your account.
*** If you have forgotten your account password, click Activate button to start the registration process again. A new activation link will be emailed to you.
*** We cannot guarantee colors will look the same as on the screen. Photos are used for product presentation purposes, and colors usually depend on the brightness of your screen.
**** We can guarantee that our prices are correct, but we cannot guarantee that they will not change.
**** We strive to answer all questions as soon as possible, for any additional information you can contact us at any time.
Product details
Proizvod ima podesivu kopču i dostupan je sa jednim, dva ili tri bloka pene, koji se mogu ukloniti kako plivači razvijaju više veština. Plovci su uklonjivi i napravljeni su od pene visoke gustine.
Proizvod pomaže u učenju dece da plivaju tako da postanu samostalni plivači.
Pojas se pričvršćuje za struk da bi pomogao u učenju različitih položaja plivanja kao i podučavanju specifičnih tehnika.
Najčešća Pitanja
Gde Kupiti