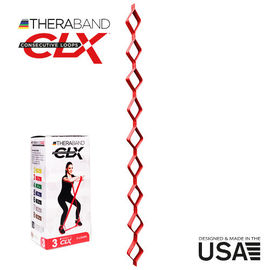 Description
Thera Band Loop CLX Loop fitness bands provide versatility and easy use, that change the way people experience exercising and rehabilitation. It consists of loops, which are versatile, simple and inspiring.
These bands provide multiple fix and grip options for the body, allowing so much moves, which connect the work of the upper and lower body. In this way, you achieve uniform exercise of all muscle groups. Thera Band Loop CLX Loop band also makes it easier to add resistance to the classic exercises you normally do.
Elastic, exercise, resistance bands
Thera Band Loop CLX Loop fitness band is used to strengthen muscles, increase strength, mobility and flexibility of the body. These bands, in addition to exercising and strengthening the body, are used in the rehabilitation process, and also to increase the functional capabilities of professional athletes.
These bands are extremely easy to use and work on the principle of resistance. They are made in several different colors, each of them indicates a certain degree of resistance. You should choose the resistance according to your current strength and endurance, and with the increase of strength during training, you can change them for bands of higher resistance.
The advantages of these elastic bands are numerous, and the most important is that they can be used in almost any space, such are a living room, bedroom, office or gym. They do not require a lot of space and are easy for carrying, so that you can fully dedicate yourself to your trainings. These bands eliminate the need to use traditional exercise equipment.
Functional, elastic, exercise band
They are extremely famous all over the world. Thera Band CLX Loop exercise bands are made of a combination of high quality materials, so their structure can withstand even the most intense workout, as well as demanding exercises during rehabilitation.
Thera Band CLX Loop bands are intended for exercising the whole body and all muscle groups individually. They can be used for exercising at home, but also to provide useful support in the gym. They are extremely convenient for travel. The exercise bands of this famous brand are suitable for all types of workout and you can completely customize them.
Thera Band Loop CLX Loop fitness band:
- Provides more unique grip options, allows exercise such are open and closed grips, exercises without grips and the like.
- It enables exercises that you have not been able to perform before and are useful for systemic exercises, such as simultaneous work on the upper and lower body.
- These bands are latex free, so they are also suitable for people who suffer from allergies.
With each Thera Band CLX Loop fitness band you get a free exercise app suitable for all Android and Apple mobile devices.
* All products displayed on our site are part of our range, but we cannot guarantee they will be available at all times.
Product details
Proizvod se pravi u nekoliko različitih boja od kojih svaka boja označava određeni stepen otpora. Trake za vežbanje su napravljene od kombinacije visokokvalitetnih materijala tako da njihova struktura može podneti i najintenzivnije treninge.
Trake pružaju višestruke opcije držanja i učvršćivanja za telo što omogućava obilje pokreta koji povezuju rad gornjeg i donjeg dela tela.
Proizvod ne sadrži lateks pa je pogodan za osobe koje pate od alergija.
Najčešća Pitanja
Gde Kupiti