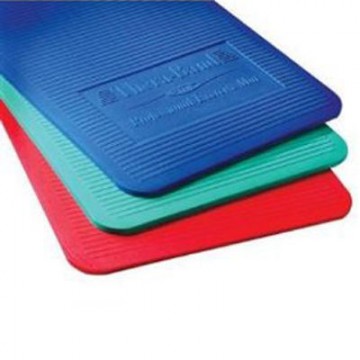 Description
Many exercises can be extremely uncomfortable without an adequate exercise mat, causing your elbows, knees, and other parts of your body to suffer the most. If you make your workout more convenient, it will be easier to perform exercises without mistakes.
If you are looking for adequate exercise mat, it is time to get acquainted with the top Thera Band exercise mats, which are a common choice for both recreationists and professional athletes who demand top quality. These mats will make your workouts more convenient and far more comfortable, and that is a great advantage so you can perform exercises without any obstacles and difficulties.
Practicality of these mats makes workout be available to you at all times, regardless of weather, season or place. Simply fold the mat and take it with you, so you won't have to miss any workout.
Quality exercise mat
Tera Band exercise mat is made of high-quality materials that guarantee its durability as well as wear resistance. This mat is suitable for exercising in the gym, at home or even outdoors, which makes it a great ally in acquiring healthy habits. This mat is flexible and easy to fold, so it can fit in a bag.
Tera Band exercise mat is ideal for yoga, but also for many other workouts that require use of mat. The best thing about this mat is they are available in several colors, so you can completely adapt your workout to your will and style.
Washable exercise mats
The material used in the production of this mat is characterized by high resistance, which makes it resistant to wear even during intensive training. These mats are easy to clean with soap and water, and that helps them always be clean and harmless to health.
Thera Band exercise mats feature:
- Suitability for practicing all types of floor exercises that require sitting, lying down, knee support, elbows support and the like
- A width that is suitable for most workouts
- Can be used for strength training, stretching, rehabilitation and more
Practicality and versatility make these mats suitable for use in the gym, at home or outdoor.
* Our website uses cookies that are necessary to improve your user experience
Product details
Proizvod namenjen za vežbanje svih vrsta podnih vežbi koje zahtevaju sedenje, ležanje, oslanjanje na kolena, laktove i slično. Napravljen je od visokokvalitenih materijala koji garantuju trajnost, kao i otpornost na habanje.
Podloga je savitljiva i lako se sklapa kako bi mogla da stane u torbu. Lako se čisti vodom i sapunom. Širina podloge je čini pogodnom za većinu treninga.
Najčešća Pitanja
Gde Kupiti