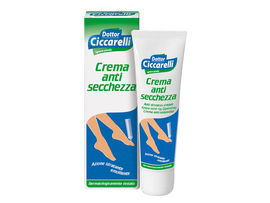 Description
Dottor Ciccarelli moisturizing foot cream is used to provide adequate foot care. This foot cream with an active hydrating effect intensively nourishes and cares cracked skin on the heels, and relieves dry skin problems. Dottor Ciccarelli foot creams are rich in natural ingredients that have positive effects on the feet skin. This cream is completely mild and natural, which makes it possible to use it even for people with sensitive skin.
Cera di Cupra is a well-known Italian brand that brings to you cosmetics prepared according to a traditional, secret recipe, but designed in a modern way and enhanced with ingredients discovered by the most contemporary cosmetic industry. Natural cosmetics based on honey and beeswax give to skin much more benefits, than other similar cosmetic lines, that can be found on our market.
Cera di Cupra has always been other name for beauty, tradition, high quality and authenticity. Cosmetic preparations of this brand have been the first choice of many ladies, but also gentlemen, for decades. Cera di Cupra cosmetics is a recipe for beauty.
Cream for cracked heels skin treatment
Cera di Cupra moisturizing cream for dry heel and foot skin, has excellent effects on the feet. Honey and beeswax have a hydrating effect, as well as an antibacterial effect that makes the skin extra strengthened and nourished. This cream is suitable for everyday use at home, and can be used several times a day. This hydrating cream is quickly absorbed into the skin, so it is extremely suitable for all people who do not like to see traces of the cream, after application.
Moisturizing foot cream is made according to a natural recipe, without harmful effects on environment  and man. Cera di Cupra moisturizing cream, in addition to moisturizing ingredients, also contains components that nourish skin cells and thus help it maintain its natural elasticity and lushness. As the cream helps the skin retain enough moisture and nutrients, it also helps cracked heel skin to heal. After regular use of the cream, dry skin will become tender and soft, and the unpleasant feeling of cracked skin of heels will disappear.
Scented foot cream
Basic ingredient of every Cera di Cupra cream is virgin beeswax, which means that it is natural. The gentle structure of the cream gives it an extremely pleasant and mild scent, while the cream with a light structure is suitable for all skin types. With this cream, care of foot skin has never been easier.
Although it is suitable for all skin types, special caution is recommended for people who are prone to allergies to bee products, because in the case of using this cream, there may be contraindications connected with allergies. In case of known allergies to bee products, always consult a doctor before you start using this cream.
Product details
Med i pčelinji vosak imaju uticaj hidriranja, kao i antibakterijsko dejstvo što kožu čini dodatno ojačanom i nahranjenom. Proizvod pomaže da koža zadrži dovoljne količine vlage i hranljivih materija i da se ispucala koža peta zaceli.
U osnovi proizvoda se nalazi pčelinji vosak te se ne preporučuje osobama koje su alergične na ubod pčele.
Proizvod je potpuno blag i prirodan, što čini da mogu da ga koriste i osobe sa osetljivom kožom. Osim sastojaka za hidrataciju u sebi sadrži komponente koje hrane ćelije kože i na taj način joj pomažu da ona zadrži svoju prirodnu elastičnost i jedrinu.
Najčešća Pitanja
Gde Kupiti